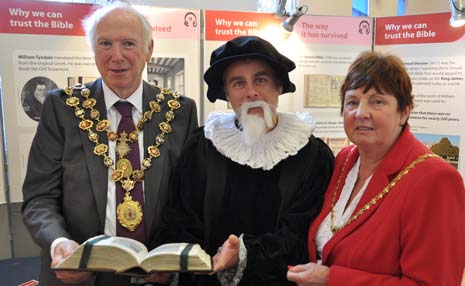 Tyndale recently hit the headlines - and the streets - in Chesterfield - home of the famous 'crooked spire' to publicise an exhibition on the History of The Bible...


The 15th Century Scholar, who was martyred for translating the Bible into English, this time elected to
spread the word face to face on a walkabout through the town
, before
welcoming
The Mayor and Mayoress

of Chesterfield at the exhibition
.
The exhibition, put on in Eastwood Hall by the
Chesterfield Cristadelphians
, included
ancient documents,
showing how the Bible survived intact down the centuries to reach us today as well as
archaeological exhibits
which demonstrate the accuracy of many of the Bibles historical passages.
Mr McEvoy, Secretary of the Christadelphians (from behind Tyndale's beard) said "The exhibition was welcomed with great enthusiasm and interest by Christians in Chesterfield. We hope that it reminded people of its unique and remarkable history which we believe points to its unique status as the Word of God."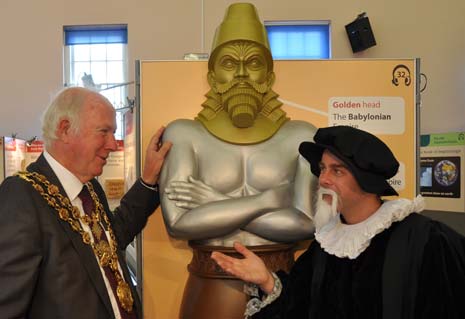 "Despite being rooted in history, we believe the Bible has a powerful and helpful message for people in the 21st Century too and we'd welcome the chance to share that with anyone who's interested."